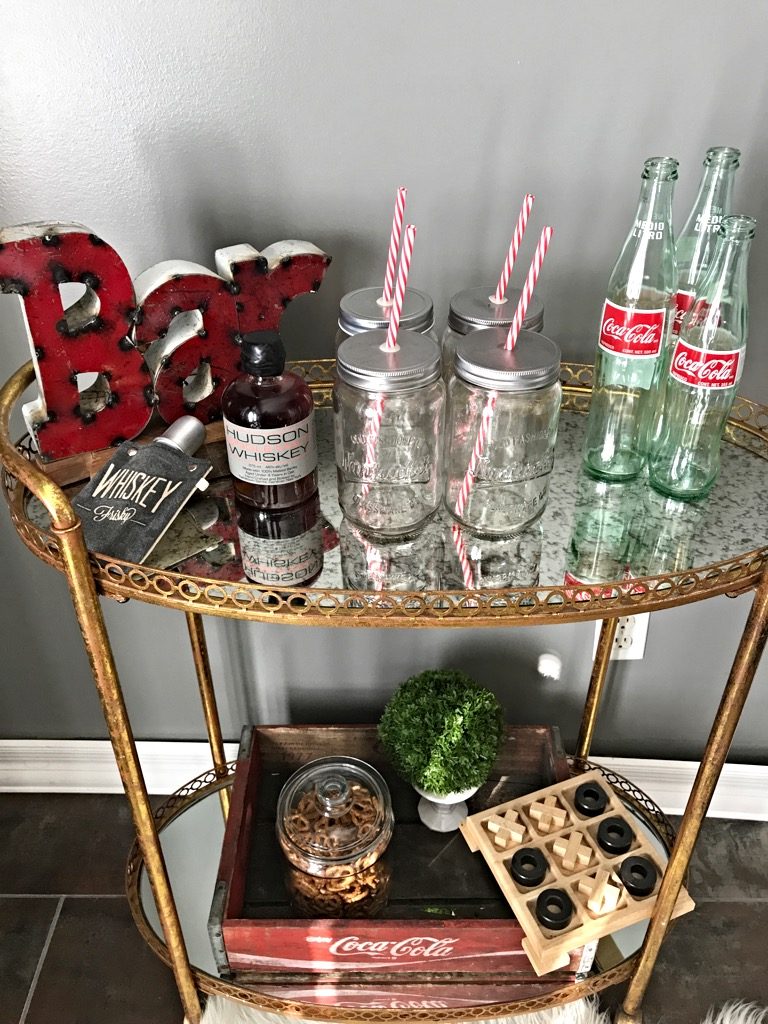 Happy Friday Beautiful's!
Just a quick little post for Friday Bar cart Beautiful! 
Today I wanted to share with you a fun little date night or even Boy's Game night idea for your bar cart! Super easy & quick to throw together idea for a fun Night.  Just a couple Items to throw this look together! If you've been following me you know I love to entertain and  have been a collector of thing's I think will make for good serving pieces or fun props that you can use over & over! Here's some tips on what to look for to make your carts come together with easy….
I love the Word BAR I picked up at Homegoods and use a ton! Look for words you would use like EAT & Yum if you don't drink! (Bar can be used for…. Candy BAR, Coco BAR, Cup cake BAR) You get the Idea!        I love trays and consider this Coke Cola crate a tray (found mine on etsy) Collect fun Cups that can be used for multiple occasions. These lidded Mason jar glasses work great for picnic's, Ice Tea, lemonade and perfect for game or movie night!  I save cute bottle or cool soda cans and use as props. Glass jars are great to serve food and treats out of!  Use things around your house…Like games, silk flowers, real plants, candles, books for risers Etc.
Collecting serving pieces & glass ware that can serve multiple occasions is smart… Don't get to caught up in a theme you might not be able to get multiple looks out of it! Think Glass, White, solid colors or a pattern if you can use it for multiple seasons or holiday's! ( I collect black and white stripes and polka dots) Which can be used for many occasions! 
See my other Bar Cart idea's Here……  BBQ, Tropical, Cinco de Mayo, Vacation ready, Girl's Movie night, Summer weekend
Hoping you are enjoying My Bar cart Beautiful Series!
Have a great weekend Beautiful's! Ox, D'Arcy