This Tuesday's Tip is how to Create Fun Easter Basket's for The MEN in your Life! Creative and Fun items your Men will love! Your Hubby, College age Boy and Teen age Boy will love all these yummy and useful treats! ( Not to mention I have a Giveaway In this post) I've created an easy shopping board Here
Want to Win A Jord Gift certificate?
ENTER HERE: https://www.jordwatches.com/g/deardarcy Just for entering you get a $25.00 gift code! The winner will receive a $100 e-gift code to our site! All other entrants will receive a $25 consolation e-gift code at the close of the contest.
A FREE WATCH IS NOT PART OF THE CONTEST! Contest ends at 11:59 CST 4/16/17 and both gift codes expire 06/18/17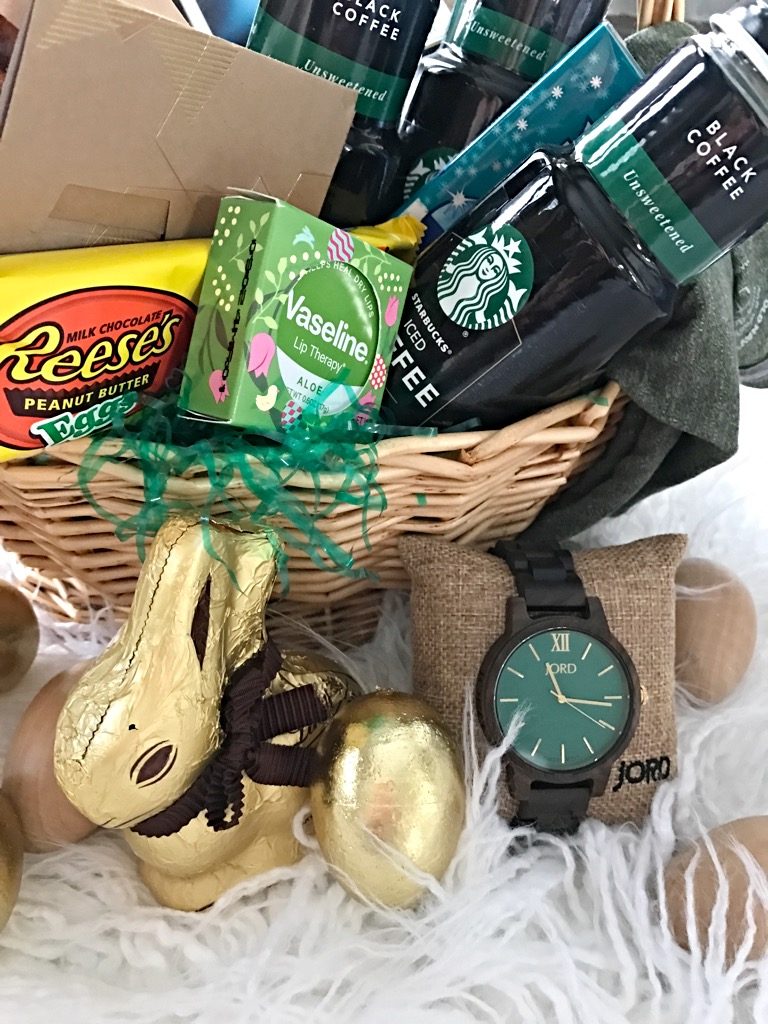 Do you have A hard time trying to figure out what to put in your Hubby's and Boy's Easter basket's as they get older? When they were little (the kids) it's easier to find fun treats to fill up the baskets that's NOT ALL candy!  As they have gotten older it get's harder…and I found way's that have made it easier.
I like to go with a theme..In years past I have done Spring break items, bathing suit,towel,sun screen, and a couple of treats they love. I have done sports theme, gaming theme etc. I found a theme helps keep me organized and not to go totally over board! (those baskets are only so big!)  This year I decided to go with a small color theme and their FAVORITE snacks!  My Boy's really don't love candy but they love chocolate and they really like snack foods…Heres for easy shopping…all your needs in one place. HERE
Here's how I started….I went to Old Navy and picked each Boy out a tee shirt and matching boxers, then I went to Target, world market & TJ Maxx to looked for some gum and little treats that matched their tee's. ( I didn't go crazy on the Matching color theme, Although it would be really cute to do All 1 color!) I really wanted to concentrate on getting some of their favorite snacks. As each one likes different snack foods I thought this would be fun and practical! My boy's will appreciate all their favorite snacks and a couple of new one's to try! 
The Hubby…Do you do a basket for your hubby? It's been a tradition of mine since we dated! My hubby doesn't buy much for himself and He loves treats plus he snacks all day long so it was always really easy to buy him his favorite treats and put in a basket! This was my inspiration for my boy's Basket's this year! FAVORITE snacks…    This year My hubby is getting a extra Treat's a JORD'S watch  Shop All Men's watch's =https://www.jordwatches.com/shop/men/#deardarcy    To shop my Hubby's watch= https://www.jordwatches.com/series/frankie/dark-sandalwood-and-emerald/#deardarcy    
Some of the Fun snack's my Boys and Hubby enjoy:
Starbucks drinks and Gift card, Kind bars, trail mix, sea salt dark chocolate bars, Reese's peanut butter bar, Billy goat BBq chips, edamame, dried Mango's, Organic peanut butter cups, whoppers, goldfish, Joe's coffee, Amsterdam cookies, gum!
Non Food Items, Bath balms, Vaseline, tee shirt, boxers, Shower gel, deodorant,Starbucks card!   (you could do any Gift card mine would love In & out) 
For those of you without a lot of time a created a very easy shopping board on Amazon, everything you need to create a fab basket for the men in your life. HERE 
 Hope I helped you figure out some fun Easter Basket Ideas for the Men in your life!  OX D'Arcy